The Modern Mall: 3 Things Retail Tenants Need to Know
by Laura Richards on October 20, 2022
"Physical malls and shopping centers seem to be a dying breed. Except where they aren't."
This compelling snippet from Fast Company about the stereotypes of the modern mall - and the exceptions to those stereotypes – makes you think, what's working for retail tenants in a modern mall?
For five decades, malls were the epicenters of their communities. For shopping, socializing and entertainment, malls were it. But when the internet and online shopping became the norm, malls had a swift fall in popularity. In 2020, COVID-19 dealt a devastating blow to the already struggling facilities.
The modern mall is taking a novel approach. By integrating different tenant types and paying special attention to consumer needs, the modern mall is finding its footing in a new way.
1. Interactive Stores Are a Big Draw
Tamara Szames is an industry advisor with trend forecaster The NPD group who feel strongly about "shoptainment." Szames predicts that shoppers, younger generations especially, are ready to come back to shopping as a form of entertainment. This is credited mostly to the urge to socialize and be unrestricted after lonely pandemic shutdowns.
The concept of shoptainment goes further than tempting window displays. It includes activity-based retailers in a mall environment. Build-A-Bear, Legoland, in-mall museums, workout facilities, co-working spaces, elevated dining experiences, car shopping options, and well-designed photo destinations are proving to be successful ways to reinforce your local mall as the place to be.
2. Medical Facilities Bring New Purpose to Old Spaces
On the other side of the pandemic coin, demand for COVID-19 testing brought a new, quite different audience to local malls. Many of which became triage centers for overwhelmed medical providers.
Vanderbilt University Medical Center is one of the many using its former social mecca – the Hickory Hollow Mall – to expand medical reach. Dr. Jeff Balser, CEO of Vanderbilt University's Medical Center said to Fortune magazine, "The possibilities for service offerings in a facility of this scale are endless."
Mall spaces cost less than hospital campus expansion, they offer convenience with central locations, and they can accommodate a large influx of patients, guests and practitioners with excessive space and parking.
It's not just hospitals either. Outpatient treatment providers are embracing malls to see more patients more conveniently. A database designed by Georgia Tech urban design professor Ellen Dunham- Jones indicates that in the United States, 32 enclosed malls currently have healthcare services as tenants.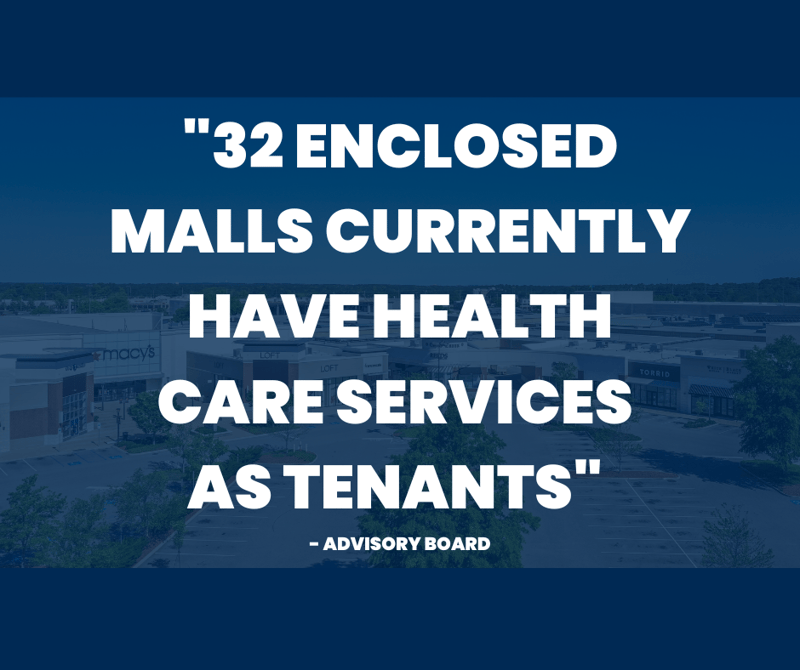 3. Digitization of Malls is a Must
"The digitization of malls is the beginning of the omnichannel real estate experience. It may seem like an oxymoron, but if retail brands are showing up online and in real life, real estate should too," wrote Brin Snelling for Forbes.
It's a no brainer that an e-commerce shop would collect consumer data. Personalized shopping experiences are the bread and butter of online shopping. To keep up with e-commerce, landlords and tenants must collect data to understand their audiences.
Malls have can do this in some very straight forward ways. Supplying Wi-Fi and building in-store/in-mall apps are great places to start. Once retailers have data on their shoppers, it can quickly be translated into more revenue and an improved customer experience.
4. Outdoor Malls Reign Supreme
Even in the worst throws of the COVID-19 pandemic, outdoor malls had less vacancies than their indoor counterparts according to JLL data. This is once again credited to the pandemic and the fact that consumers feel safer in public when there's an open-air environment.
Retailers who got ahead of this trend, like Macy's Department Stores, are reaping the benefits. When Macy's shut down their mega center in Chicago's Water Tower Place and opened smaller brand stores like Market by Macy's, they saved dramatically on rent per square foot according to Reuters.
On a simpler level, outdoor malls offer walkability and small-town-feel that indoor malls simply cannot capture. Even though a person is walking out of The Gap and into a Barnes and Noble, there is a feeling of walking down main street walking from one small business to the next.
CBRE stated in their Q3 Retail Report published in Dec. 2021 that vacancy rates in retail stores were at a 10-year-low of 5.9%, and retail absorption was 36.7 million square feet, the third highest in the past decade. More recently, Simon Property Group reported an occupancy rate at its malls and outlet centers of 93.9% as of June 30, 2022. On the same date a year ago, that number was 91.8%.
Whether consumers are shopping or getting their annual checkups, there is a need for the modern mall.
If you're a corporate or retail tenant who wants the best available data when it comes to leasing space, reach out today to learn more about what CoStar Real Estate Manager can do for you.