The most powerful combination of market data, analytics and management software available.
CoStar empowers real estate managers to drive better outcomes.

Secure Stronger Negotiating Positions
Get direct, on-demand access to more than 6 million properties including space availability, lease comps, current tenants and more.

Direct Brokers More Effectively
Know market and submarket conditions, peer properties plus leasing and rent trends including forecasts.

Deliver More Value and Cost Savings
Provide detailed insights on new space or thorough analysis for lease renewals with demographics, traffic conditions and competitors.

Plan More Confidently and Confidentially
Know the most about any set of properties or markets without signaling plans or initiatives to the marketplace.

Prompt Team Member Actions Smarter
Set automatic alerts on a set of properties or portfolio data points to prompt critical actions for renewals, payments and more.

Make Lease Accounting Compliance Easier
Confidently report on real estate and equipment and integrate data workflows with critical business systems.
Take a closer look at CoStar for Corporate and Retail Tenants.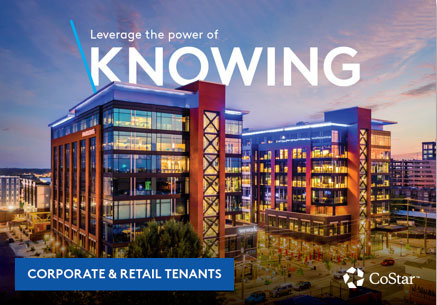 Get the PDF brochure detailing what your team can accomplish with CoStar for Corporate and Retail Tenants at their fingertips.