Want to tackle lease accounting faster and see problems before they become a headache?
The newest release from CoStar Real Estate Manager has you covered.
Now, accounting teams have even more insight into ongoing ASC 842 and IFRS 16 processes. Here's just a sample of what you'll see:
Get everything lease accounting in one click.
Know what needs review in an instant.
Examine supporting data faster with in-app pivot function.
Automatically see where problems may lie and take action.
Find contacts and reports faster.
Run any report with just one click.
New Accounting Module
The new accounting module puts all lease accounting functions in one focused area. Users can access and execute routines – from journal entry processing to batch lease remeasurements – faster than ever, saving time on repeated tasks.
New Accounting Dashboard
The new accounting dashboard filters lease data by calendar, portfolio and year. In-app pivot functionality enables users to quickly filter and analyze supporting data.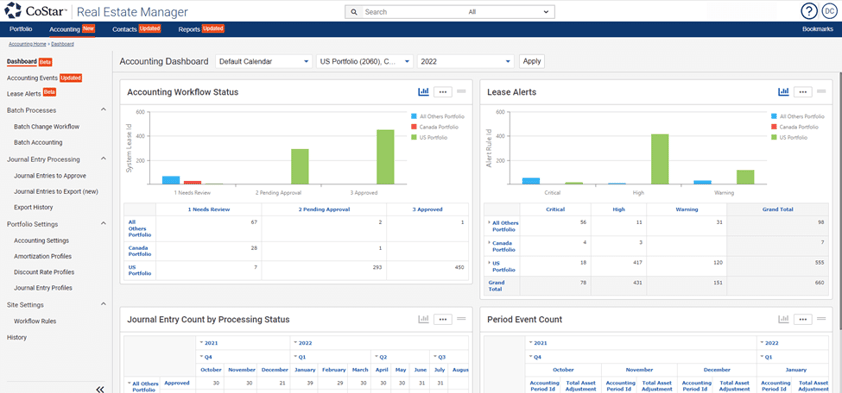 Automated Lease Alerts
Automated lease alerts – the next evolution of CoStar's proprietary exceptions report – prompt reviews of critical lease data and reduce calculation errors.
One-Click to Run Reports
A single click of any saved report name – whether it's a routine item like for disclosures or a custom, ad hoc query – runs it quickly and easily. Plus, there's easy access to other options like sending to individuals or distribution lists.
Enhanced Navigation
New navigation for accounting, contacts and reports makes it even faster to access functions, search records and add new information. Users can now create custom distribution lists and send items.
It's right around the corner and available late Summer 2022. If you want to see it for yourself earlier, reach out today for a demo.